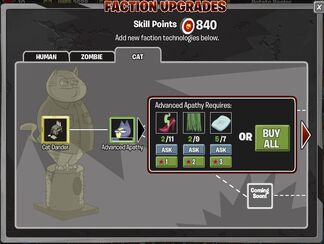 Advanced Apathy is a Cat HQ upgrade which allows the player to build Catnip farms and Cheezburgers once all the item have been collected.
Items required to compelte:
11 Highheels
9 Curtains
7 Pillows
These items can be collected by asking friends, found during a fight, a prize after finishing a match or bought with stars.
Ad blocker interference detected!
Wikia is a free-to-use site that makes money from advertising. We have a modified experience for viewers using ad blockers

Wikia is not accessible if you've made further modifications. Remove the custom ad blocker rule(s) and the page will load as expected.